Best Tamil movies on Amazon prime
Amazon prime is the one of the OTT service provider like Netflix but Amazon is having more regional contents compared with Netflix. So here we can find the list of best Tamil movies you can see in Amazon prime videos. If you don't have Amazon prime account then you can buy/trail through below link
Kadaram Kondan
A trainee doctor has just moved to Malaysia with his pregnant wife. An unidentified man gets admitted in his hospital after an accident who is later identified to be one of the most wanted by the Malaysian police on a murder case. Doctor's wife is kidnapped with a demand to get the stranger out of the hospital. How the doctor-stranger duo rescue the doctor's wife is the rest of the movie.
NGK
Suriya plays the title role Nandha Gopalan Kumaran, who has completed M.Tech, Ph.D doing organic farming for his living and do social work without any returns, leaving the corporate job, living a happy life with his parents and wife Sai Pallavi. At one point of time, opposition party's Bala Singh induces the idea of joining him in politics and circumstances led him to join the party too.
Raatchasi
Geetha Rani, the new headmistress of a Government School, has to confront misbehaving students, lethargic faculty and non-existent routines. As she faces these difficulties, will she be able to reform the education system and the society?
Viswasam
A village ruffian, who settles disputes in his native, takes on a big shot when he tries to sort out the rough patch in his marriage after several years.
Theri
Joseph (Vijay) lives in a small town of Kerala. He lives with his 6-year old daughter (Baby Nainika as Nivi) and his close ally Rajendran. Annie (Amy Jackson) is Nivi's class teacher who develops an interest over Joseph. This peaceful life of Joseph is shaken when a group of local goons from Kerala crosses path with him.
Oru Kuppai Kathai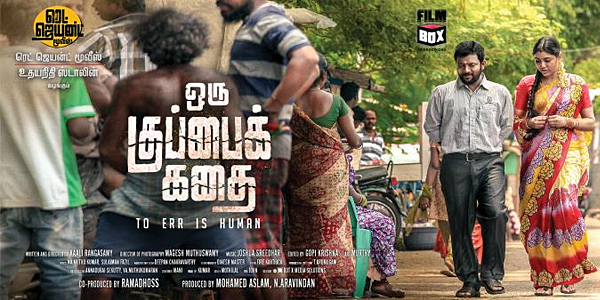 Oru Kuppai Kathai a Tamil language film with English subtitles where Kumar, a garbage collector gets married to a young woman named Poongodi who believes he is a blue-collar worker.Things take a turn when she discovers the shocking truth.
2.0 (Tamil)
Dr Vaseegaran (Rajinikanth) and his android assistant Nila (Amy Jackson) are called in for help after mobiles start mysteriously flying out of the hands of people in Chennai. Vaseegaran summons his trusted robot Chitti (Rajinikanth) to ward off the bird-shaped supernatural powers of Pakshirajan (Akshay Kumar).
Imaikkaa Nodigal
A suave CBI officer (Nayanthara), is in search of a serial killer who kidnaps and kills the children of important people. The killer, however, is targeting his nemesis next.
Monster
Theeran Adhigaaram Ondru
Theeran, a police officer is entrusted with the task to solve the mystery behind a series of murders and burglaries. The only clues left behind are the fingerprints of the culprits. How he solves the case, forms the crux.
Kadaikutty Singam
Gunasingam, a family-loving farmer who hails from a small town, tries his best to keep his big family united.

Tagged:
2023 tamil song lyrics
latest tamil songs
new tamil movies 2023
tamil lyrics
tamil movie song lyrics
tamil movie songs
tamil movies
tamil songs
tamil songs 2022
tamil songs 2023
vijay