Thumbaa Tamil Song lyrics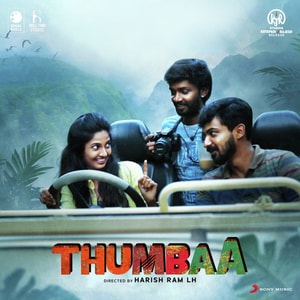 Thumbaa is an upcoming Indian Tamil/Telugu/Malayalam/Hindi (multilingual) language fantasy adventure comedy drama film written and directed by Harish Ram on his directorial debut. The film stars Darshan, Dheena and newcomer Keerthi Pandian in the lead roles.
The soundtrack of the film featured songs composed by Anirudh Ravichander, Vivek-Mervin and Santhosh Dhayanidhi. The film score is composed by Santhosh Dhayanidhi.
MOVIE
Thumbaa
CAST
Darshan, Dheena
& Keerthi Pandiyan
MUSIC
Anirudh Ravichander,
Vivek – Merin
Santhosh Dhayanidhi
DIRECTED BY
Harish Ram
PRODUCED BY
Surekha Nyapati
YEAR
2019
Song lyrics
PUDHUSAATAM SONG LYRICS
2. JILEBARA SONG LYRICS
3. Humpty Dumpty Song Lyrics