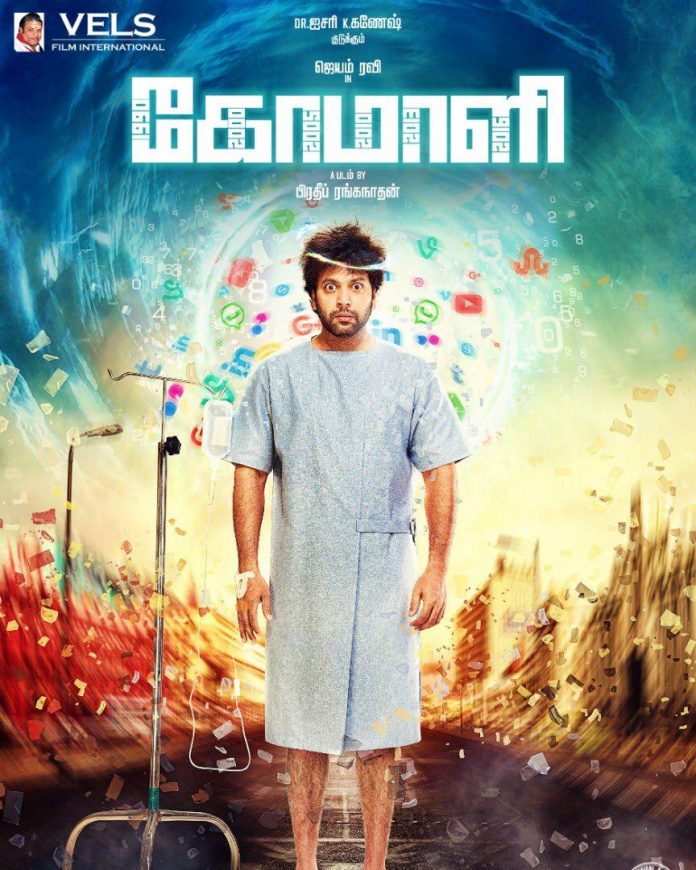 MOVIE
COMALI
CAST
Jayam Ravi, Kajal Aggarwal, &
Samyuktha Hedge
MUSIC
Hip Hop Tamilzha
PRODUCED BY
Ishari K. Ganesh
DIRECTED BY
Pradeep Ranganathan
YEAR
2019
Comali is situation comedy drama film produced by Vels Film International. Also known as JR24, the film is written and directed by Pradeep Ranganathan .
Jayam Ravi and Kajal are acting together for the first time; Kajal would have acted in the film Sakalakala Vallavan, but because of a conflict with other films' schedules, she had not been able to act with Jayam Ravi.
Song Lyrics
PAISA NOTE SONG LYRICS
2. YAARA COMALI SONG LYRICS
3. OLIYUM OLIYUM SONG LYRICS
4. HI SONNA POTHUM SONG LYRICS
5. NANBA NANBA SONG LYRICS
Tagged:
actor Jayam Ravi
Actress Kajal Aggarwal
Actress Samyuktha Hedge
Comali
Comali Lyrics
Comali Movie Song Lyrics
Comali Song Lyrics
Hi Sonna Pothum
Hi Sonna Pothum Lyrics
Hi Sonna Pothum Song Lyrics
Hi Sonna Pothum Song Lyrics - Comali
Hi Sonna Pothum Song Lyrics in Comali
lyricst hip hop tamilzha aadhi
Lyricst Pradeep Ranganathan
music by Hip hop tamizha Aadhi
Nanba Nanba
Nanba Nanba Lyrics
Nanba Nanba Song Lyrics
Nanba Nanba Song Lyrics - Comali
Nanba Nanba Song Lyrics in Comali
Oliyum Oliyum 2019
Oliyum Oliyum Song Lyrics
Oliyum Oliyum Song Lyrics - Comali
Oliyum Oliyum Song Lyrics in Comali
Oliyum Oliyum Song Lyricsd 2019
P
Paisa Note Song Lyrics
Paisa Note Song Lyrics - Comali
Paisa Note Song Lyrics in Comali
singer hip hop tamizha Aadhi
Yaara Comali Song Lyrics
Yaara Comali Song Lyrics - Comali
Yaara Comali Song Lyrics in Comali