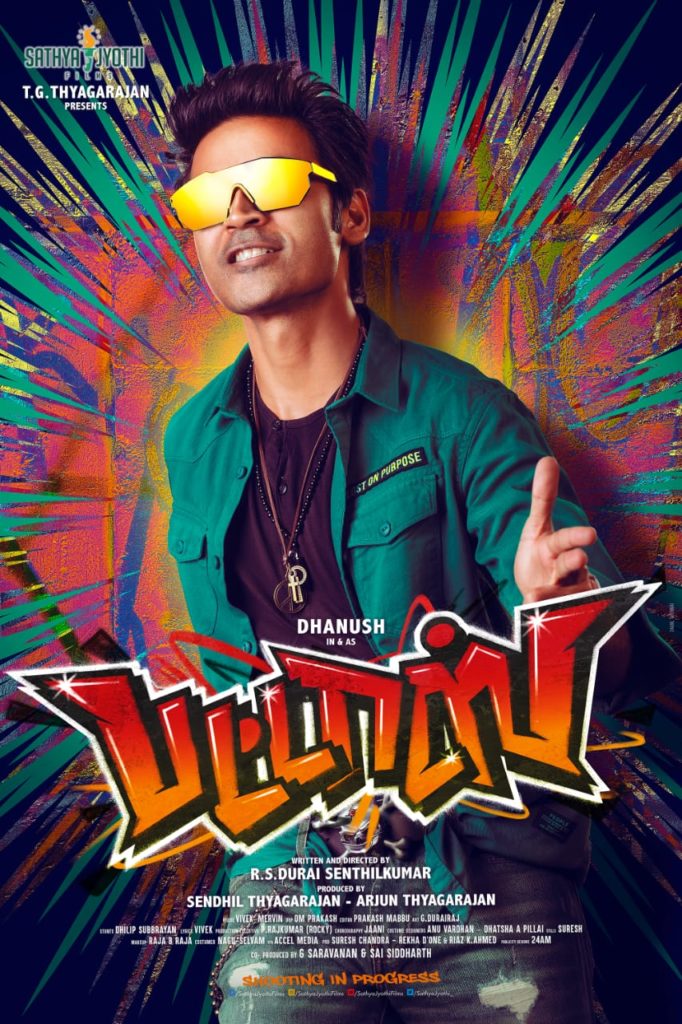 MOVIE
PATTAS
CAST
Dhanush, Sneha,
Maureen Pirzada
MUSIC
Vivek – Mervin
DIRECTED BY
R.S Durai Senthilkumar
PRODUCED BY
Sendhil Thyagarajan,
Arjuna Thyagarajan
YEAR
2020
Pattas is an upcoming Indian Tamil-language action film written and directed by R. S. Durai Senthilkumar and produced by Sathya Jyothi Films.
The film has music composed by Vivek-Mervin. It marks the second collobaration between Dhanush and director Durai Senthilkumar.
Song Lyrics :
CHILL BRO SONG LYRICS
2. MURATTU THAMIZHANDA SONG LYRICS
3. Jigidi Killaadi Song Lyrics
4. Piriyadha Enna Song Lyrics
5. Pudhu Suriyan Song Lyrics
6. Mavane Song Lyrics
Tagged:
Actor Dhanush
Actress Sneha
Chill Bro
Chill Bro lyrics
Chill Bro lyrics - Pattas
Chill Bro lyrics in Pattas
Chill Bro song lyrics
Chill Bro Song Lyrics - Pattas
Chill Bro song lyrics from Pattas
Chill Bro song lyrics in Pattas
Jigidi Killaadi Lyrics
Jigidi Killaadi Lyrics - Pattas
Jigidi Killaadi Lyrics from Pattas
Jigidi Killaadi Lyrics in Pattas
Jigidi Killaadi Song Lyrics
Jigidi Killaadi Song Lyrics - Pattas
Jigidi Killaadi Song Lyrics from Pattas
Jigidi Killaadi Song Lyrics in Pattas
mavanae yaarukittae Remix song lyrics
mavanae yaarukittae song lyrics
Mavane Lyrics
Mavane Lyrics - Pattas
Mavane Lyrics in Pattas
Mavane Song Lyrics
Mavane Song Lyrics - Pattas
Mavane Song Lyrics from Pattas
Mavane Song Lyrics in Pattas
Murattu Thamizhanda
Murattu Thamizhanda Lyrics
Murattu Thamizhanda Lyrics - Pattas
Murattu Thamizhanda Lyrics from Pattas
Murattu Thamizhanda Lyrics in Pattas
Murattu Thamizhanda Song Lyrics
Murattu Thamizhanda Song Lyrics - Pattas
Murattu Thamizhanda Song Lyrics from Pattas
Murattu Thamizhanda Song Lyrics in Pattas
music by vivek mervin
Pattas
Pattas lyrics
Pattas movie lyrics
Pattas Movie Song Lyrics
Pattas Song Lyrics
Piriyadha Enna Lyrics - Pattas
Piriyadha Enna Song Lyrics
Piriyadha Enna Song Lyrics - Pattas
Piriyadha Enna Song Lyrics from Pattas
Piriyadha Enna Song Lyrics in Pattas